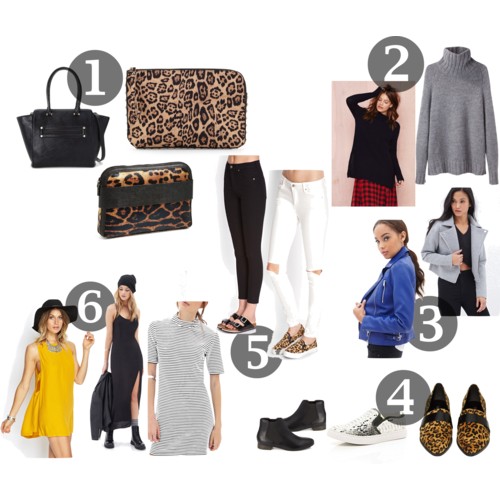 One of the biggest disappointments about fall, and trust me there are many, is that the days seem shorter and shorter yet my to-do list gets substantially larger.  It's that time of the year filled with upcoming holiday parties which means shopping for what to wear but it's also a good time to start re-evaluating and re-stocking your wardrobe.  As you transition your closet from summer to fall, it's a good idea to take inventory, see what fits and what doesn't and make note of anything you feel is missing.  Then as you start shopping for Christmas presents, it's never to early to snag those, you can pick up your fall wardrobe updates.  Some fall wardrobe updates I'm hoping to make are:
Purses/Clutches: A good structured bag is a must, especially for a corporate chica like myself, but I also like to add some personality with fun clutches.
Sweater Dress: As the weather cools my MUST have item for this fall/winter is a chic yet cozy turtleneck sweater dress that I can dress up, down or even snuggle in bed with. My biggest challenge is always finding one that is flattering yet functional.
Moto Jackets: I love the allure and instant sexiness of a woman in a classic moto jacket, but to take it up a notch I'd like to add one in a bold color or interesting material.
Shoes: The Chelsea boot is a great fall staple because it goes with basically everything!  I'm also looking for new leopard print loafers since mine have tragically reached their peak. Lastly a pair of patterned slip-ons are perfect for work or long nights and are both stylish and comfortable.
Jeans: For the fall I'm searching high and low for a crisp clean pair of black skinnies that will do double duty for work as well as a night on the town and a pair of looser white jeans with some cuts near the knee.
Dresses: I'm on the hunt for versatile dresses, like a classic black midi or fall colored a-line, that can be dressed up for a night out and worn casually for strolls through the Eastern Market.
It's important each season to re-evaluate your closet to identify the basics, key pieces and statement garments as well as any potential additions you want to make.  Being methodical about your wardrobe will help you to reduce impulse buys, create a more cohesive closet and save not only money but time spent on figuring out what to buy and wear!
Comment below and tell me: What are your fall wardrobe updates?
Shop my Picks below: