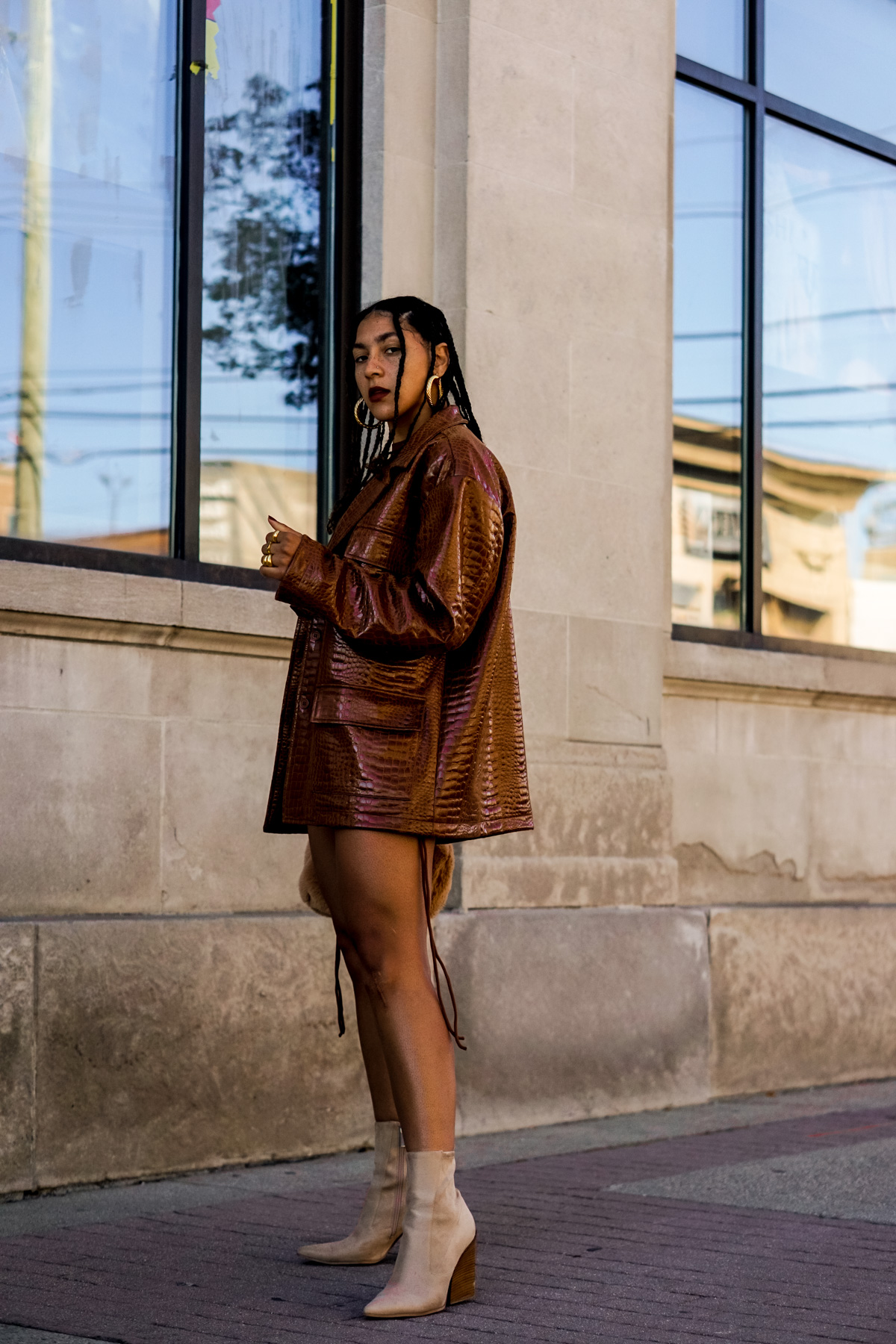 If you didn't know I love a monochrome outfit! Seriously, here's an all green outfit, an all red outfit, and an all blue outfit. Whenever I get the urge to wear color I strangely find rocking it head to toe to be the least overwhelming. I know that seems counter intuitive but it takes all the stress out of guessing out of what color to pair with what, if things match and it ALWAYS looks effortlessly chic! Honestly if you've wanted to add color to your wardrobe but haven't been sure how to wear it, I recommend going big like I did with this brown monochrome outfit. While brown isn't really a daunting color to try it can easily look boring if you don't style it right. When creating monochrome outfits the key is mixing and matching shades along with textures so it doesn't look blah. This is your chance to really have fun, go big both with color and texture. Like this croc jacket which definitely makes a statement! Normally when I buy textured pieces I get them in neutral colors because it makes them easier to pair with other things. Plus picking safer colors means that it won't go out of style after one season. I shared a post on 5 ways to wear this croc jacket in the spring but it's the perfect shade for fall too. I decided to layer it over my go-to rib dress that you guys saw in my trench coat post from last week. The subtle mix of textures between the embossed croc and the ribbed knit keeps the outfit from falling flat. To add even more visual interest I decided to reach for my faux fur clutch. Seriously, how cute is this thing!?!? The moment I saw it I knew it was the perfect fall accessory. Plus it keeps my hands warm as the temps cool. I also layered my gold rings for big boss vibes. It really draws your eyes downwards towards the clutch. When I originally wore this outfit I had on my knee high snake boots and while I looked cute I also looked short. Where the jacket and dress stopped on my thigh plus the height of the boots made me look 5'3 instead of 5'6. To keep from looking shorter than I really am I went for the oldest trick in the book, I wore nude shoes. This is my favorite style hack for when I want to look like I have legs for days. Since the shade of my ankle boots is close to my skin tone it really helps to elongate my legs making me look tall.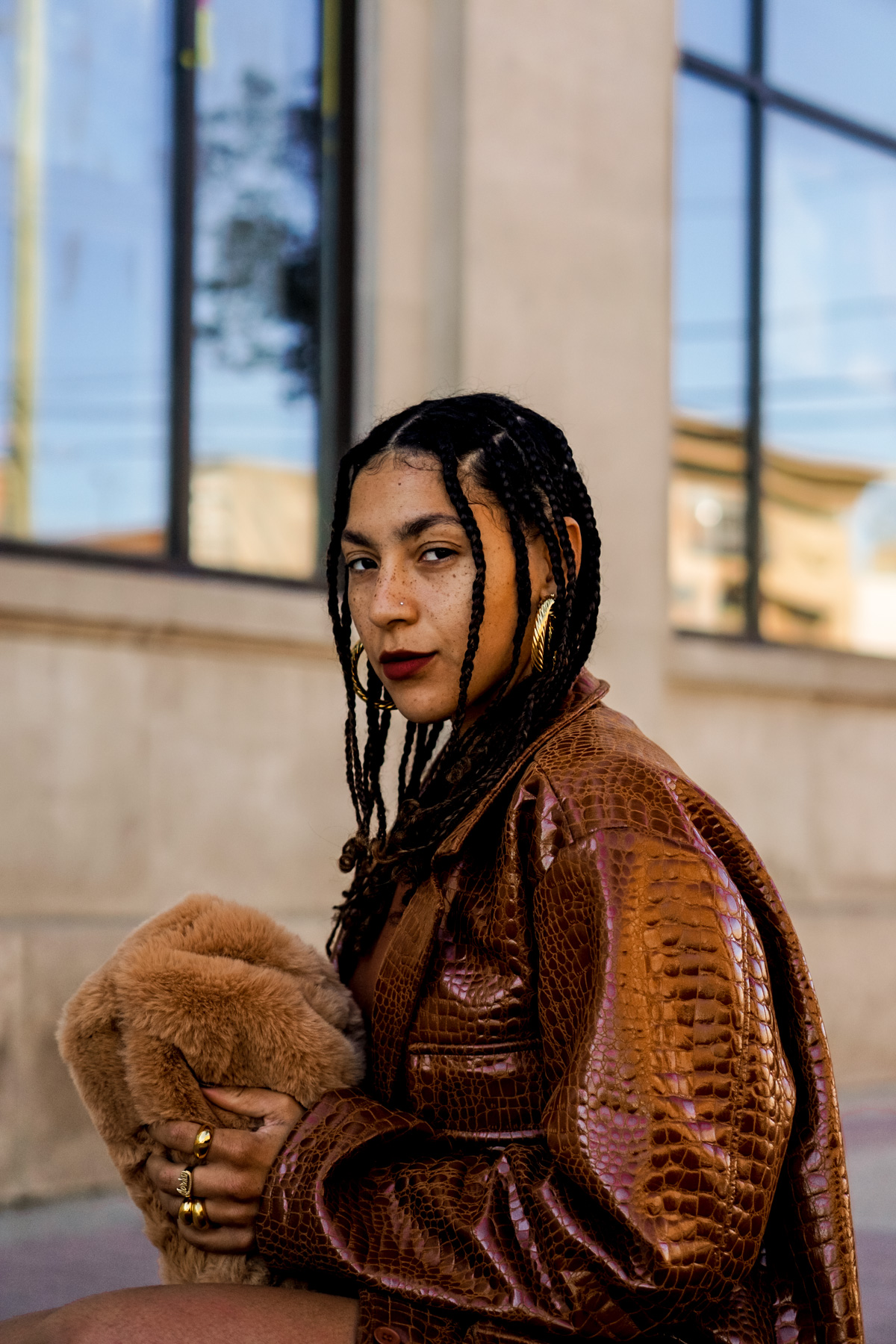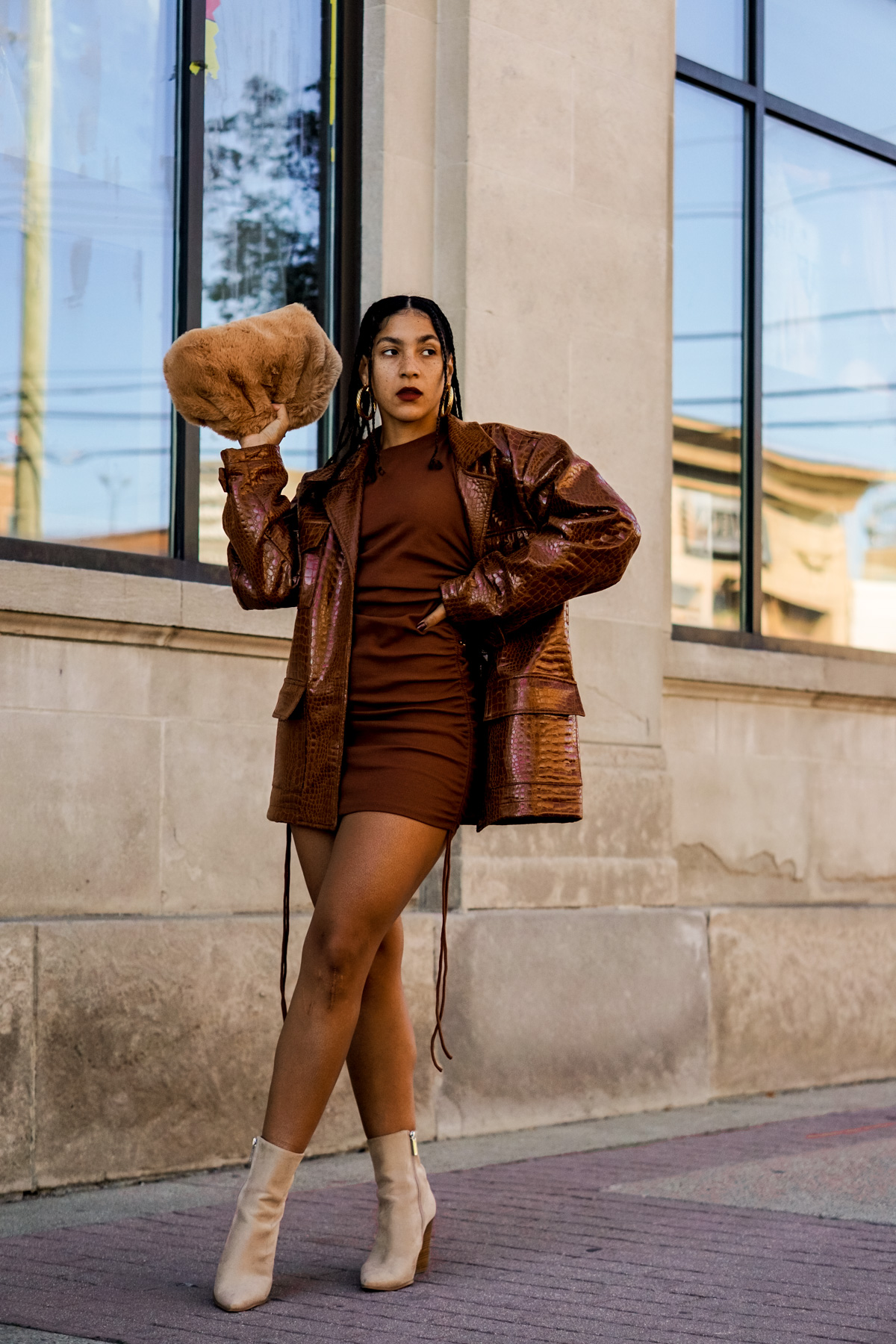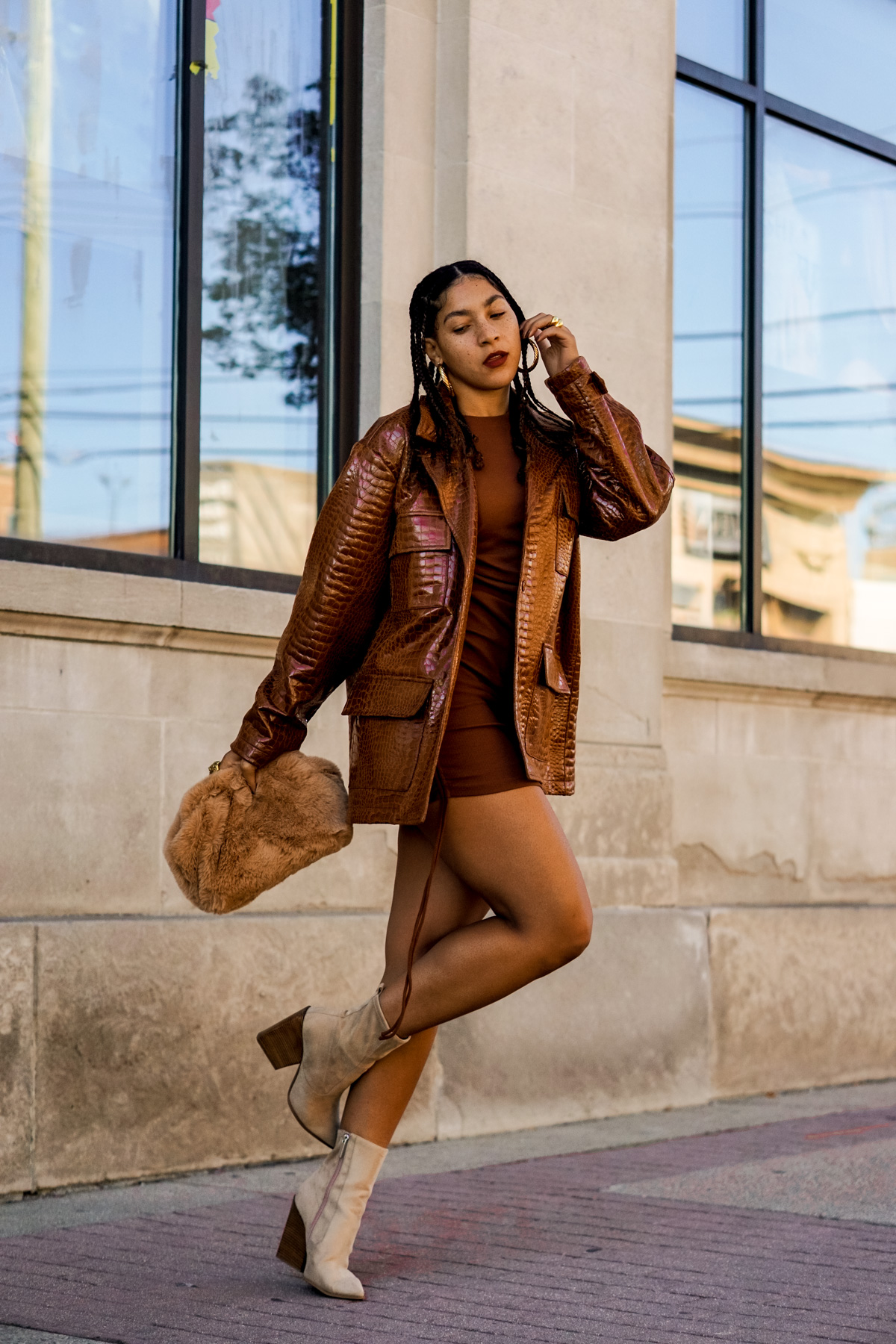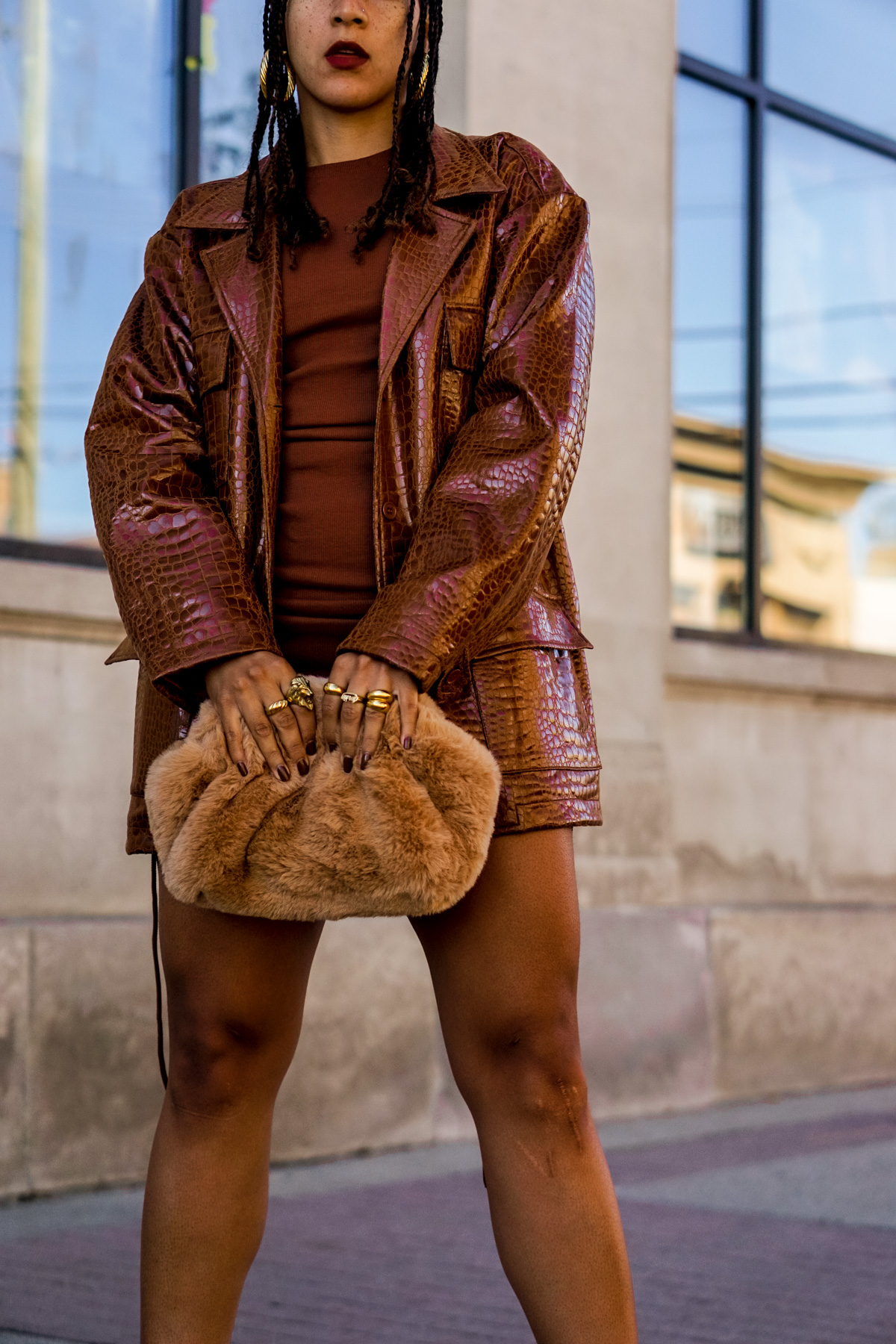 Shop My Brown Outfit Picks

Don't Miss a Look!  Get Every Outfit Delivered Straight to your Inbox by Clicking the Button Below!
Save
Save
Save